PURE RACEBOARD COMPETITION
Sizes: 8.5 9.5
The Loftsails Raceboard Blade (9.5 & 8.5) has a history in raceboard World Championships, winning the World Championships twice under the the guide of Fernando Martinez and Alex Buchau. This specialist discipline involves providing power and lift for course-racing hulls (longboards with centerboards) with specific designs for upwind drive and extreme pointing in displacement mode from ultra-light wind to moderate breeze conditions – and full-planing downwind legs. Loftsails' Raceboard Blade is a full bodied, low-end power source with superb, streamlined, and efficient trim reactivity for the top end of the wind range-of-use. The 6-batten, 3 cam Loftsails Raceboard Blade 9.5 and 8.5 have no rivals in competitive Raceboard medium to strong wind designs. The Raceboard Blade 9.5 LW (Light Wind) is a specialized 5-batten, 3 cam design optimized for the bestpossible light to medium wind performance.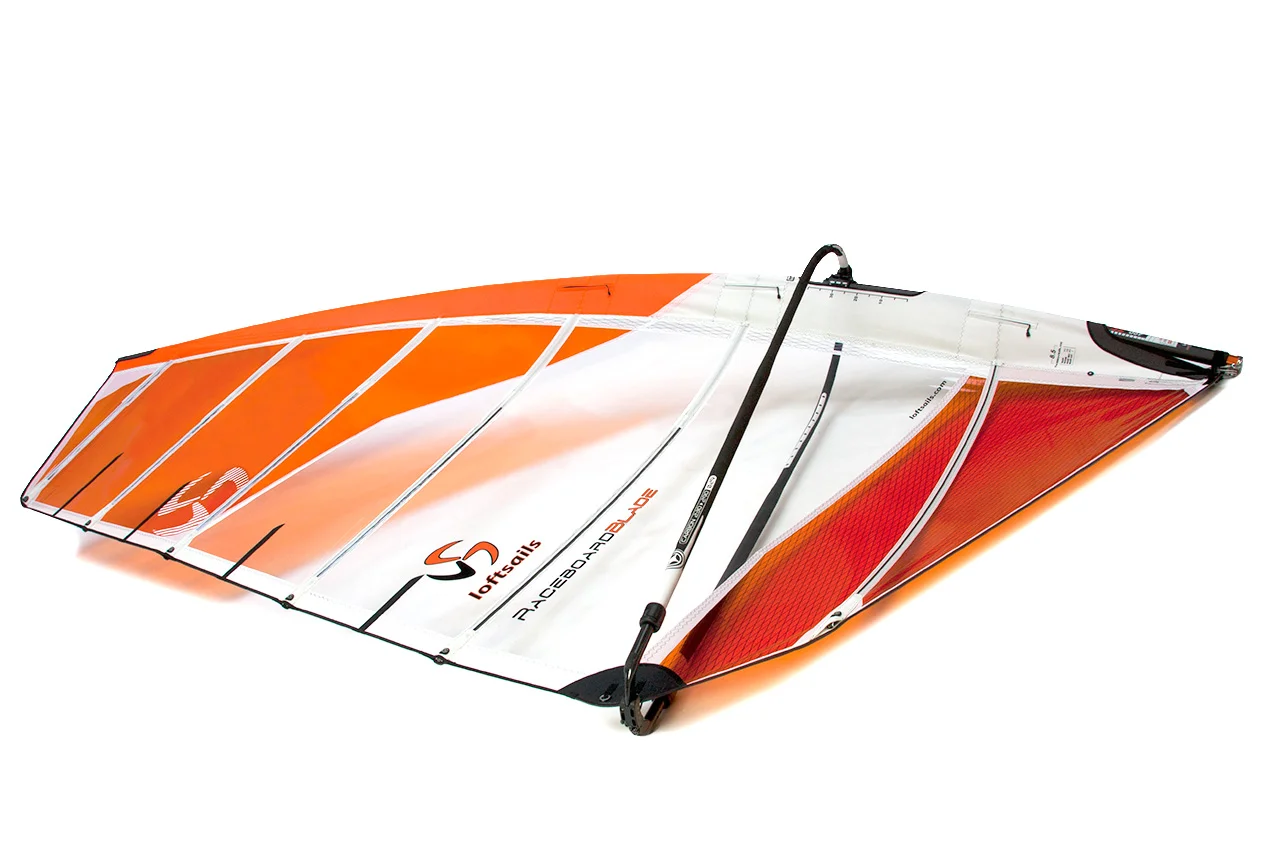 Features
& Benefits
Blade mast-pocket construction features mast panel and mast-pocket sides (3 layers) that are tensioned directly (all 3 layers under tack pulley webbings)– therefore downhaul tension is equalized between the mast panel and the mast pocket resulting in the Raceboard Blade's firm, clean, easy-rotating leading edge
4 mil Dimension Polyant monofilm body panels – proven superior performance
Tubed battens with varying carbon content according to performance.
Metallic cam interfaces– MCIs eliminate contact point degradation characteristic of cam designs without MCIs
Exposed tack (no mast pad) and boomhole, facilitating adjustable downhaul assemblies
Xply batten pockets that alternate sail sides... using similar material for the batten pocket as the body material minimizes the asymmetric character of applied batten pockets. Pockets made with laminates allow the batten to be centered. These features combine to maintain rotation symmetry. In contrast, same-side dacron pockets promote assymetrical rotation.
Design Testimonial by Monty Spindler
"Specialized design for the low end making light-air raceboard racing more efficient and more fun!"
Pro tips
What do you like about the Raceboardblade 2018?
Your choice for medium to strong winds. Very light on your arms, but incredibly powerful, it will definitely help you to start sailing upwind just on your fin. A must have sail for more than 15 knots, and a wonderful machine as the wind gets stronger. It feels like you just want more and more wind!
What do you like about the Raceboardblade LW?
A wonderful, powerful, light, and yet durable sail, perfect for light wind conditions. Your best choice ever for winds up to 12 knots, although it can easily handle stronger winds. Play with all the possible settings, and you'll be surprised on its wind range.
Sail Specifications
| Description | Size | Luff | Boom | Vario Top | Extension | Cambers | Battens | Recommended Mast | Weight |
| --- | --- | --- | --- | --- | --- | --- | --- | --- | --- |
| Raceboard Blade 8.5 Orange 2017/2018 | 8.5 m2 | 492 cm | 242 cm | Fixed | 2 cm | 3 | 6 | Team Edition SDM 490 | 5.36 kg |
| Raceboard Blade 9.5 LW Orange 2017/2018 | 9.5 m2 | 552 cm | 254 cm | Fixed | 2 cm | 3 | 5 | Team Edition SDM 550 | 5.6 kg |
| Raceboard Blade 9.5 Orange 2017/2018 | 9.5 m2 | 530 cm | 264 cm | Fixed | 10 cm | 3 | 6 | Team Edition SDM 520 | 5.84 kg |
Ask Monty
"When you have a technical related product question."
Write a question
Knowledge
"Learn and understand our products better."
Learn more
Preferred Webshop
"When you want to buy online direct out of stock."
Buy now
Warranty
"Sorry to hear this happened, let's work out a solution"
Apply
Share your feedback
"Help us to improve to make our products even better than they are."
Give feedback
Nearest dealer
"Visit your nearest local shop who stock Loftsails."
Find out
Frequently
asked questions?
What does 1 Year Unconditional + 1 Year Conditional warranty cover?
Warranty is valid 2 years after date of purchase. When making a warranty claim in the first year the product is unconditionally warranted. When making a warranty claim in the 2nd year the product must have clearly suffered from a manufacturer error.