EARLY DAYS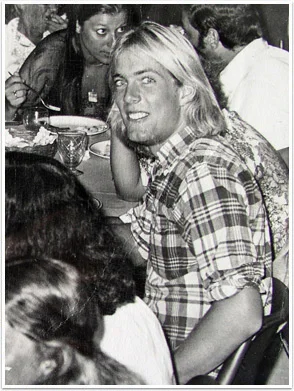 Monty Spindler began his career on the water at six years of age, racing Optimists, and the "MinnesotaY" class (sixteen foot sloop) in Michigan, USA. In 1970, Monty entered the junior program at the Annapolis Yacht Club – studying dingy techniques with Scott Steele (Olympic Silver Medal LA games 1984).
Monty went on to race actively in the Laser class, winning the Chesapeake Singlehanded Championships in 1974, '75, '76, and '77, and finished sixth at the Laser World's in Cabo Frio, Brasil (1977).
During his Laser years, Monty also owned International 14 (Kirby 5), Snipe and Finn dinghys. He also crewed for accomplished helmsmen in the Int'l 14, Soling, Star, Tornado, J24 and various large keelboat classes. Monty was employed in the summer months by SSA (Severne Sailing Ass'n, Annapolis), instructing dingyracing techniques, and coaching the advanced students in the SSA/CBYRA club racing circuit program 1976-1978.
These are also the years when Spindler began sailmaking, beginning with Ulmer Annapolis, then working at Hood and Haarstick Annapolis. A sewing machine was kept in his room!
ALL AMERICAN SAILOR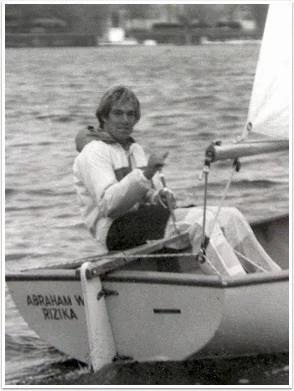 In 1978-79, Monty and Scott Steele were again teammates competing on the University circuit for St. Mary's College, Maryland. The highlight-victory at the Timme Angsten in Chicago (fall US inter-collegiate championships).Scott and Monty were selected to the President's All-American Sailing Team in 1979, St. Mary's first All-Americans.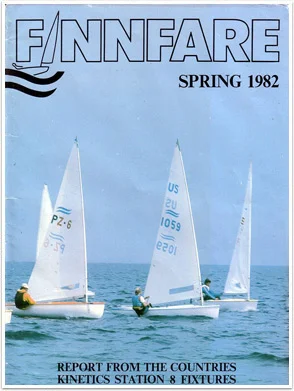 1979 – Corinthian Yacht Club of Cape May; CYCCM racing instructor. 1980 – USNA (United States Naval Academy); singlehanded sailing coach. 1981 – Monty was selected by the US Olympic Comittee as a member of the US Olympic Team to train and tour important American and European races.
Solid finishes in the Finn (2nd in the N.A.'s and the USA Mid-Winter Champs) and top 20 finishes at Kiel Week and the Finn Gold Cup did not sway him… he had discovered windsurfing!
WINDSURFING WITH WINNER
Ken Winner and Monty met while racing on the University circuit. Ken sold his first windsurfer to Monty, which promptly broke in two! Ken's animation motivated Monty to explore windsurfing.
Monty's facination with free sail rigs began in 1976. While studying and making yacht sails, Monty began making windsurfing sails in the basement of Ron Steele's home. The first sails were versions of the original Windsurfer sail. Monty and Ron experimented…
BLOWS AGAINST THE EMPIRE
Bob Barton, the director of Horizon, was fascinated by the growing windsurfing market. He planned to find an alternative to Hoyle Schweitzer's patent. Schweitzer asked a substantial fee issuing licences.
Barton believed that he could find an alternative and ask a lower fee. Consequently, Monty worked with three different inventors; Michael Ready (a rig with a spar along the foot), Stuart Jamison (a single boom which rotated between upper and lower sails), and Newman Darby. Newman Darby was in the middle of a patent controversy.
He had published plans for his individual free sail rig design in Popular Mechanics magazine in the late sixties. Monty worked with Darby in 1982, making sails for the fantastic rigs which Darby designed. Yet the beauty of windsurfing is in its simplicity and the various alternatives to the Schweitzer rig suffered from their complication. Monty left Horizon in late 1982.
MYLAR ON SAN FRANCISCO BAY
In 1980 Monty arrived on San Francisco Bay and worked for a few different yacht sail lofts. His mentor in sail design was Kame Richards of the Richards and VanHeeckeren loft in Alameda.
Kame and Monty together made some of the earliest Mylar windsurfing sails. Later Monty joined Barbara Ockel at the Pacific Surf Sails loft in Berkeley where custom sails were made for Pete Cabrinha and Robby Naish.
In 1981 Monty toured with the U.S. Olympic Team in the Finn, and in 1982 left the team for windsurfing, to work with Horizon Sails, the importer of Gaastra in the USA.
HONG KONG. A QUIVER FOR WINNER
Monty then worked for Platt Jonson at Island Windsurfing in Newport, R.I.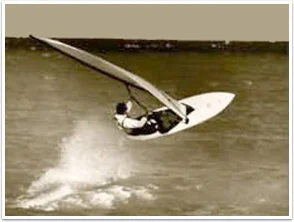 The photo is from the southern Chesapeake, a Island Windsurfing custom board (Andy Pimental), a Spindler designed and built Island Windsurfing mylar batten-less pinhead, 1983. Ken Winner, Neil Pryde's
premier World Cup racer was racing with sails designed and built by Spindler at Island Windsurfing.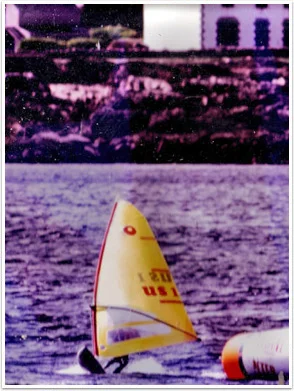 Mr Neil Pryde arrived in Annapolis to offer Monty a position at Neil Pryde Sails. Monty moved to Hong Kong 1983 joining Blaauw and Spanier at Pryde as a staff designer.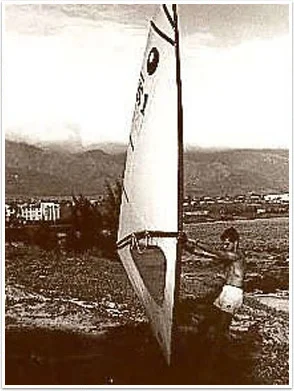 Spindler's first project at Pryde was a racing quiver for Ken Winner. The result powered Winner to second overall behind Naish in the World Cups of '84 & '85.. Monty raced in a few World Cup races in the 80s as a member of the Sailboard World Cup team alongside Christian Herles and Klaus Walther.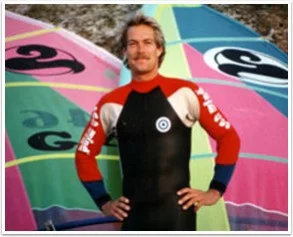 Mike Waltze, Matt Schweitzer and Spindler worked together developing the Neil Pryde wavesail design "Ultranova", the fist series all-full-batten wave design.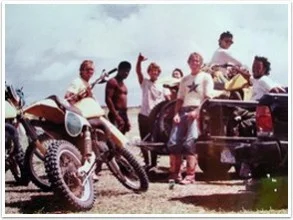 Photo – Waltze, Sweitzer and Spinder at the Cocos Cup, Guam, 1985
REEFING SAILS AND WING MASTS
Winner & Spindler developed reefing sails for crossing ventures. The fruit of this work was later taken to extremes by Arnaud deRosnay in his infamous channel crossings. Monty also built early wing mast sails at the Maui Sails Loft.
Monty was an extremely productive designer for Pryde. He was doing the bulk of the OEM work for board manufacturers (Sailboard, Hifly, Tiga, Windsurfer, Alpha, Sport Bittl, Windsurfing Japan, among others).
He also designed some of the Neil Pryde collection sails (Nova, Ultranova, RAF Slalom).
A TIME OF TRANSITION
1985 was a transition year. Leaving Pryde, Monty entered into negotiations with F2, Gaastra and North. He decided after considering the offers to go ahead with his own business.
But there was one last meeting in Hong Kong with Eckart Wagner (North) and Udo Schutz (Fanatic). This meeting ended in an agreement to work together.
THE CUT AWAY
At the end of 1985 Monty produced prototypes for North Sails. These protos included the controversial "cut away". The protos were made at the Garda North loft and were tested with positive results by Helgo Lass and Cesare Cantigalli.
Monty's design position at North lasted for only some weeks as the situation was complicated by the difficulties North windsurfing was experiencing at that time. At this moment Mr Schutz moved. Schutz bought what was the North/DeVries sail loft in Hong Kong and offered to Monty a position as his designer, and so began A.R.T.
ADVANCED RIG TECHNOLOGY
A new concept was presented at the first ART product line meeting (Schutz, Pudenz, Richter and Spindler), the "cutaway". The group decided to bring ART to the market with a splash. The ART RadWing was the design which set the windsurfing market abuzz. The RadWing was a winner in magazine tests, and powered Monty to take the Johnnie Walker Trophy at Weymouth in 1987.
The trophy reads: "THE JOHNNIE WALKER TROPHY FOR SAILING EFFICIENCY Presented to Monty Spindler at the Johnnie Walker International Speed Week 1986 for achieving 23.35 knots in 13 knots of wind +179.5% of wind speed".
The efficiency of the RadWing at Weymouth is significant considering that the current Windsurfing World Speed Record (49+ knots over 500mtrs) was set in winds of 45-55 knots.
The RadWing may have been the first production windsurfing sail which had an induced free upper-leech as a design feature. Free upper-leeches design is the norm regarding performance windsurfing sails. RadWings were in production for five years, more than 25,000 sold worldwide.
SPINDLER DESIGN
In 1986 Monty set up his own sail loft on Lake Garda; "Spindler Design". His loft was the R&D center for the ART brand. Spindler Design prospered on Lake Garda for seven years, then was sold to the Fanatic group.
During these years Spindler raced in many south European competitions; often on the podium, occasionally ontop. Photo – win at the Swiss Masters. Silvaplana 1993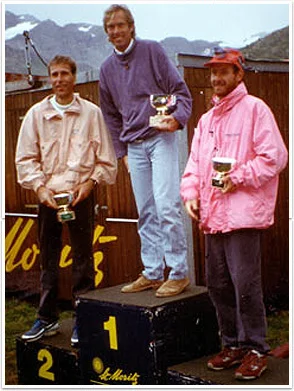 Fanatic then moved its loft from Garda to La Seyne in the south of France. From '89 to '93 ART maintained a winter R&D loft in Tarifa… after only a year in France ART R&D abandoned the La Seyne location and moved to Tarifa full time.
SPEED RECORDS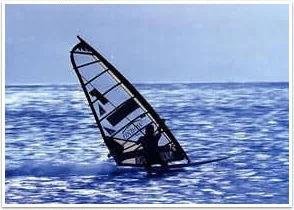 Three consecutive absolute World Sailing Speed Records were set with Spindler designed sails in the early 1990′s, first with Pascal Maka and then with Thierry Bielak.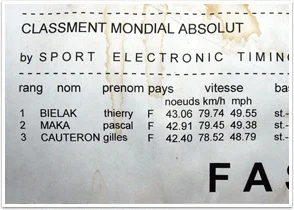 In '92-'93 the top 3 positions on the RYA's absolute world speed sailing record list were occupied with Spindler designed windsurfing speed sails.