Formula Foil European Championship
Ramon Pastor and Fernando Martinez have been working hard over the past winter developing the new Skyblade
2020, a dedicated course race foil sail, together with Pascal Toselli and Monty Spindler. They both took the chance to compete in the European Formula Foil Championship to test the sail in real competition, and the result could have not been better, overall win for Ramón Pastor and third overall and Master Champion for Fernando.
After a first light wind day of competition where they stood just off the podium, they had to fight back on each and every race to secure their final positions on the last leg of the last race. Read on the interview with both of them:
Q. Ramon and Fernando, congratulations for your great performance at the European Formula Foil Championship. How does it feel to win the competition on a sail you developed over the winter together with Pascal Toselli and Monty Spindler?
Ramón: I have no words to express how happy I feel to win this European Championship title for Loftsails, as this is the result of all the work done during this winter, me and Fernando proofed that the new Skyblade is one of the most competitive race foil sail on the market.
Fernando: Thanks. To achieve this results with a sail we developed together is the best feeling. Monty, Ramón, Pascal and me have all dedicated a lot of time and energy on this sail, and to finish first and third in the Europeans is really a great double price for me.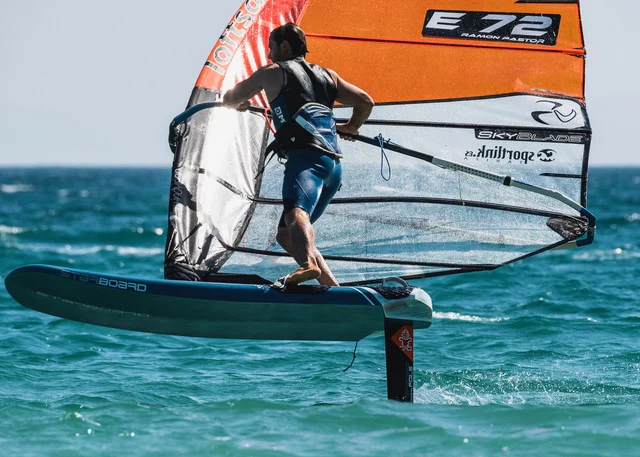 Pic by Ben Welsh
Q: After very light wind conditions on the first day that kept you both just off the podium it was a hard battle to climb back during the second and third day and finally confirm your podium positions on the very last leg of the last race ….
Ramón: Yes, it was an exciting championship were we started out of the podium positions but we managed to come back fighting every race like if it was the last race of the event. At the end we both had the same possibilities to win each race but I tooked advantage of every small mistake from Pon and Fernando to win race after race with a final solid result of five wins against four from Pons that finally confirmed me on the top of the podium.
Fernando: I did not feel that my performance in terms of speed and power was bad on the first marginal wind day, the problem was my starts as this was my first competition in more than eight months and my timing was bad not being able to fly out of the starting line. It was one of my big first mistakes, but catching up from last to third and fifth in those two races, confirmed that the sails where performing great.
Q: What Skyblade sizes did you use?
Ramón: Well, most of the time I was on the 10 m2, it performs really well in light winds, pumps nicely and feels light in your hands, just like an 8.6 m2 racing sail. On the last day the wind got stronger, between 14-17knts, and we both chose the 9.0 m2 as it has more top speed and is very easy to handle in powered up conditions.
Fernando: The 10 m2 during most of the races and 9.0 m2 just on the last day, which was tricky, a bit underpowered in the morning, but still managed to be first at the upwind mark, and well powered in the afternoon.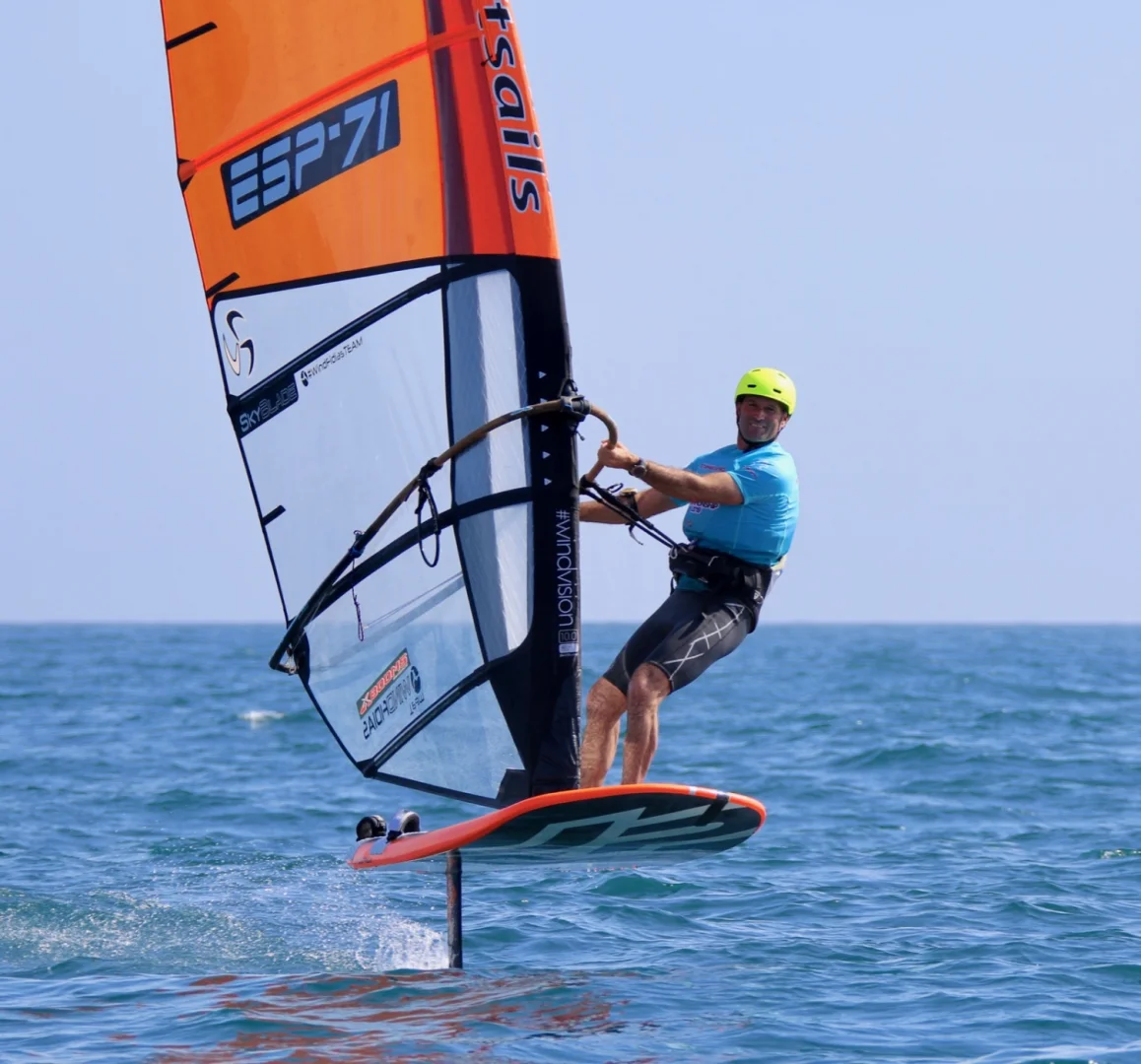 Q: What are the main differences between Formula Foil and PWA Foil Competitions?
Ramón: Basically the difference is the board's width, 100,5 cm at Formula Foil competitions and 91 cm at PWA competitions.from my point of view the performance is really close but is a bit more easy to use an especific foil board. Formula boards are perfect to combine Formula and foil.
Fernando: The limitation to 91cm width for PWA instead of 100,5 cm for Formula. From my point of view formula boards perform better ...
Q: Obviously Windfoil is very new and is quickly evolving, what were the challenges and objectives when doing the R&D for the new Skyblade?
Ramón: Our main goal was to design lighter sail to get up flying in really light wind conditions where every single gram makes a diference. Monty managed to design the new Skyblade 10 m2 at just 6,8 Kg but still strong enough to meet our longlasting standards. Next we focused in developing a sail that is both, easy to pump and with a wide range of use. All sizes have enough power to get you up and fly in a few knots of wind, for this reason the 8.0 m2 is also great sail for free racers that they do not want to compete. Still, if you want to get the best upwind angle and downwind performance go big and take the 10 or 9 m2.
Fernando: Lightweight, power and stability were the main goals on top of upwind/downwind speed and angle with a wide wind range as well. In fact you can use the 10 m2 in tarifa from 5 to 25 knots of levante.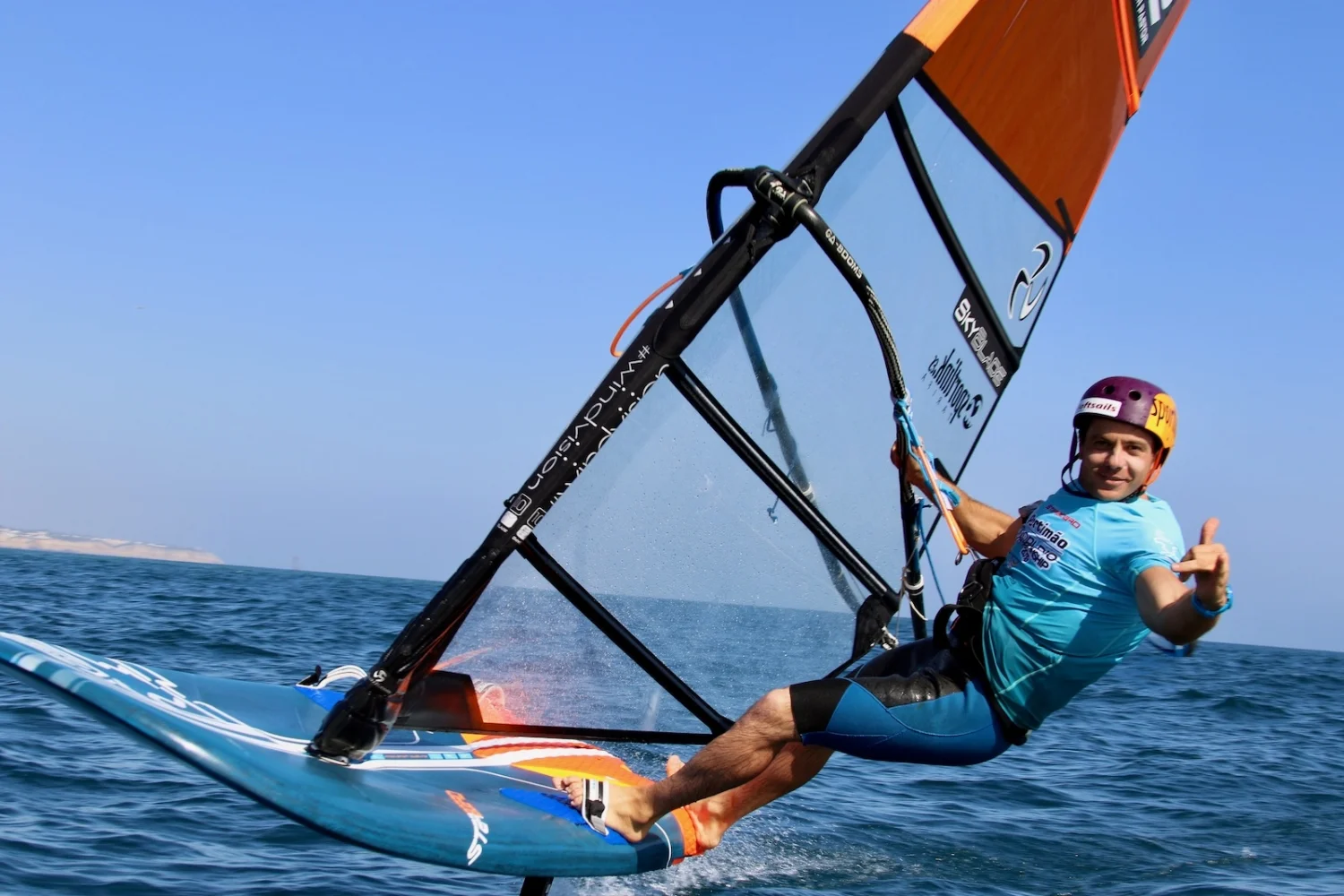 Q: Where do you see the future evolution of Windfoil rigs?
Ramón: In my opinion we will see how the market works to develop products for two foil disciplines the Race discipline with up wind and down wind format were the most important is to get nice angle that means go big and the other part the freewave/ride discipline where you can enjoy foiling with no cambers or a specific and compact foil sail like our Skyscape using small boards from 75cm to 85cm.
Fernado: you will find the answer to your question soon at www.loftsails.com
Q: What are your next plans?
Ramón: I will now focus in our tests here in Tarifa with Monty and Fernando and inbetween sessions I trai will train to be ready for my next competition at PWA Catalunya Costa Brava.
Fernando: Formula Foil Worlds in Poland, but if I can organize myself, perhaps PWA Catalunya Costa Brava, but it is not confirmed yet.
Q: What advice would you give to someone wanting to start windfoiling? Why should he got for it? What kind of gear to start with? What begginer advice in terms of set up?
Ramón: First of all you should have a minimum windsurfing level, you need to be able to plane in the footstraps and use the harness. So, then, to start foiling, make it simple, use your current wave or freeride 5.0 - 5.8 m2 sail and a 75 - 85 cm wide freeride board with an aluminium foil. When you fully control this set up you can take a cambered sail to have more power and stability, our Skyscape would be a great choice. In terms of trim, do not put too much downhole tension as the leech needs to be tighter for better stability and control compared to when normal windsurfing.
Fernando: Go for it, you will not regret it ¡ if posible, take some lessons or at least get one of your friends to teach you the basic tips. It is a lot of fun, and it feels great from the very first flight, it is, a bit, like re-learning to windsurfing again. Additionally it will expand your sailing opportunities in the low end.
I would recomend to start on a wave or freeride sail between 5.0 to 7.0 m2 in 15 knots of wind, and to set your boom a bit lower than usual, normal harness line length and not a lot of downhole tension ... and do not forget a helmet and impact vest ¡
Thanks and good luck ¡