MAELLE GUILDBAUD TAKES 2019 PWA PODIUM
Maëlle Guilbaud has just wrapped up her best season yet finishing third overall in the PWA slalom. We caught up with her to ask a few questions about life as a pro.
Q: Congratulations Maëlle on a great season. How is your life as a professional windsurfer and athlete?
I started PWA racing 4 years ago and the last 3 years have competed on the full tour. The event list is different each year and depends upon disciplines you compete in. For the girls racing in 2018, it was a short year with the last event in June. This year was longer with girls slalom also in Denmark (September) and New Caledonia (November). It makes for a busy schedule with competitions, physical training, traveling, and also regular work to balance finances. I know I am lucky and would not change it for anything because windsurfing is above all my passion.
Q: What are your highlights of this season?
During this season there are many good moments because every heat is so much fun and adrenaline. My podium in South Korea was a highlight. But the biggest moment was waiting for the 2019 overall result! It was so tight that Lena (Erdil) and I finished on the same points, but I had done just enough over the year to take third.
Q: You climb from year to year in the rankings. Who is in front of you?
Yes indeed I climb, I climb! I am super proud of my progress. The girls in front of me now are my French compatriots Marion (Mortefon) and Delphine (Cousin Questel). We are friends when on the land but on the water it is the battle and we fight hard!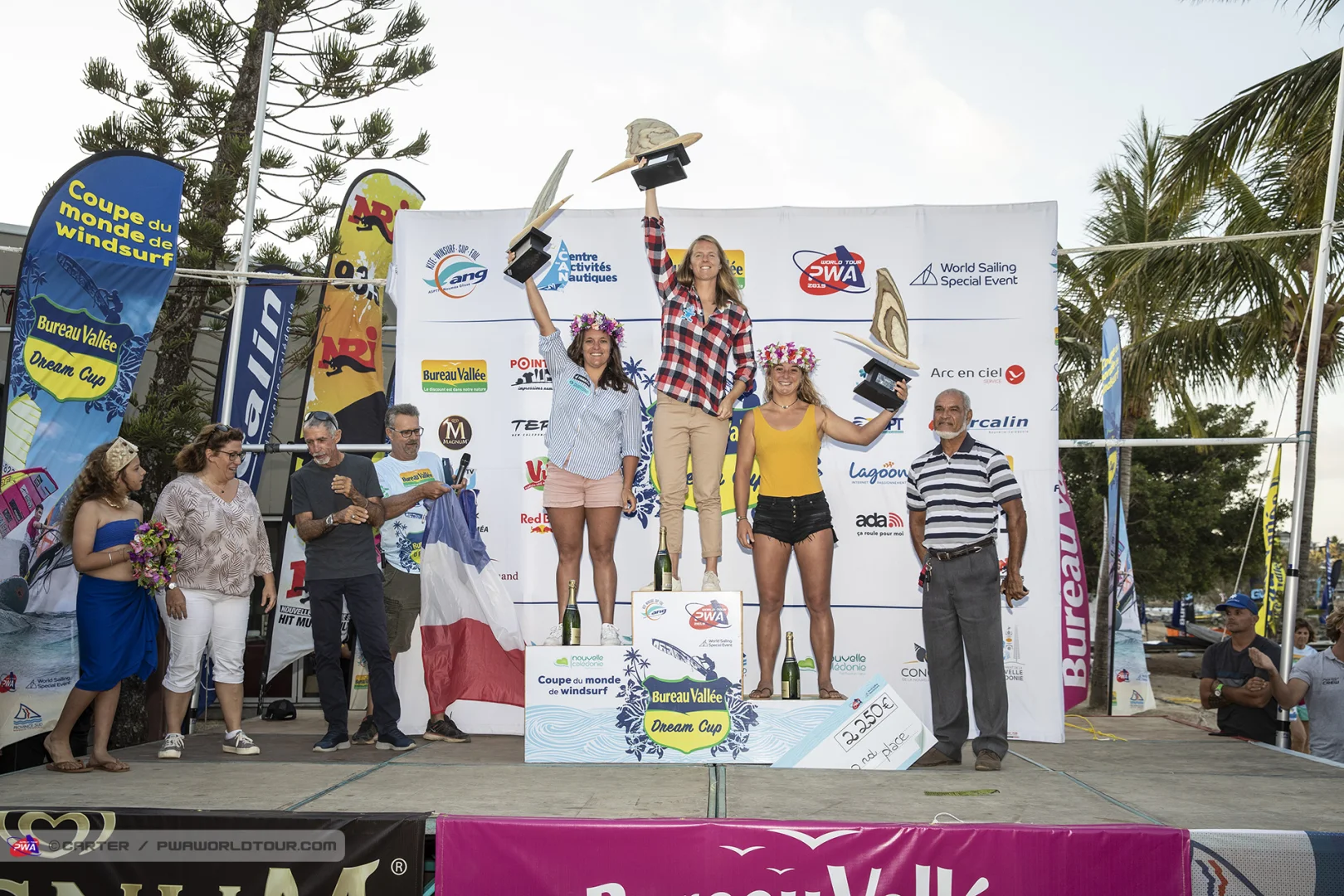 Pic by John Carter for PWA World Tour
Q: How did you prepare for this PWA season?
During the winter season I go back home to train in St Barts. The conditions at home are really perfect with good wind, nice swells and warm water. It could be worse! I also join with other top athletes from the island and we have a coach who assists with our physical preparation. Between the training on land and on water I also fit in courses and windsurf teaching for the little ones. I am also a windsurf instructor!
Q: What are your strengths as a sailor?
I would say that I am particularly strong on the gybes and that I have a good strong positive attitude! I stay positive and always believe in myself when I head onto the water.
Q: Which sails work best for you?
The sail with which I work best is the Racingblade 7.8! Probably this is because it is the sail I use most in training and in competition. The Racingblade is very stable, has really nice gybing and acceleration and of course amazing speed. I feel good with all my sails, but could use more training in the south of France to be better prepared for the strong Tramontana wind when we are on the smallest sails!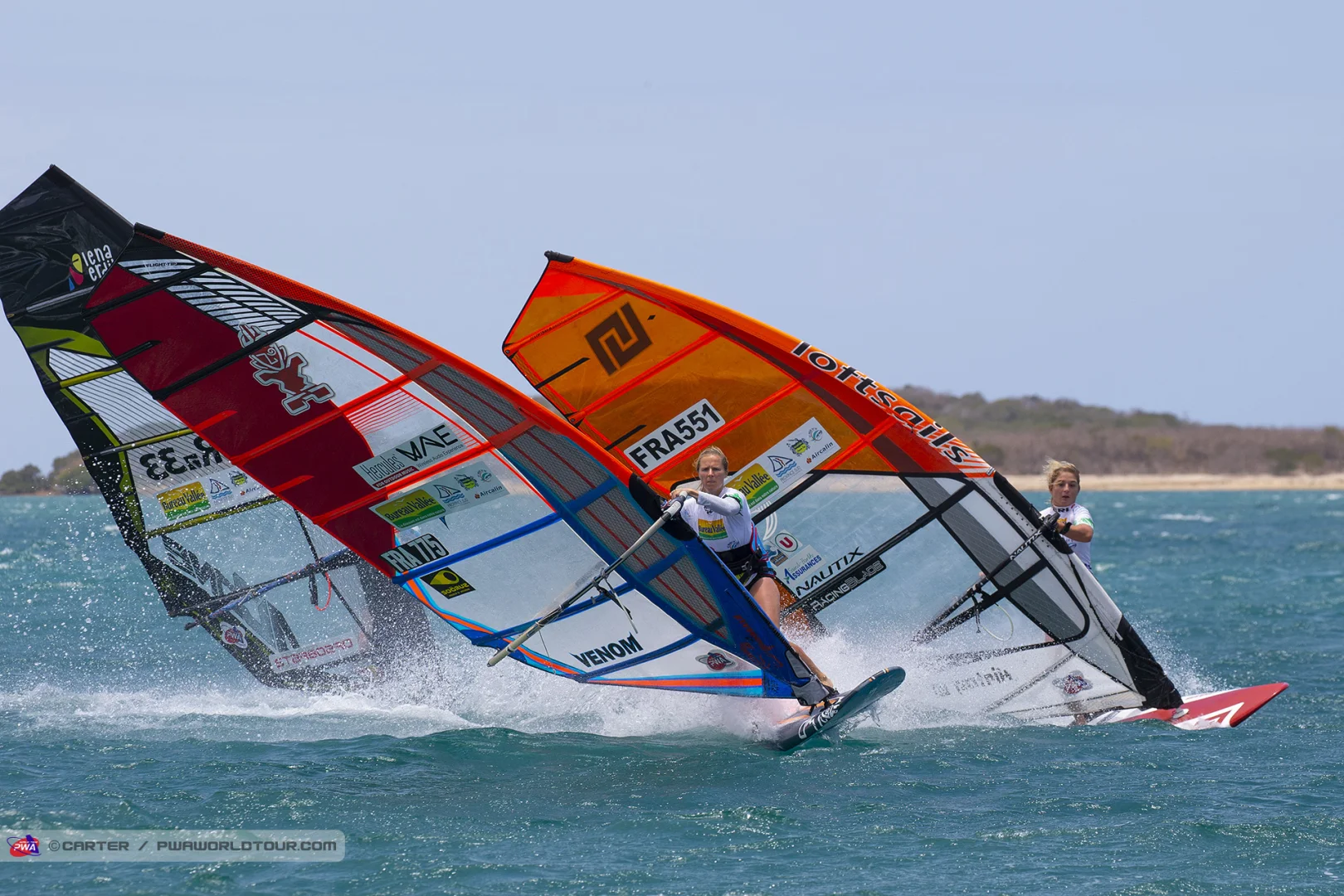 Pic by John Carter for PWA World Tour
Q: Tell us your thoughts about foil windsurfing.
Ahhh the foil! A very interesting development for competitions where the wind is weak. I enjoy the foil, but it is a big additional expense to stay up to date with the equipment at this stage. Currently, the PWA combine foil and slalom in the men's racing but not for the women's fleet. I used to sail RS:X so have an interest in Olympic windsurfing, and it is intriguing that Paris 2024 will be foiling and naturally I wonder a little about that possibility.
Q: What is the question I should have asked but did not?
Mm. Maybe ask me if there should be more PWA events.
I would reply a definite yes! Especially events in the Caribbean where it is a kind of paradise and better for photos!
Thank you Maëlle for sharing your thoughts with us. Congratulations once again and we wish you the very best for the coming season!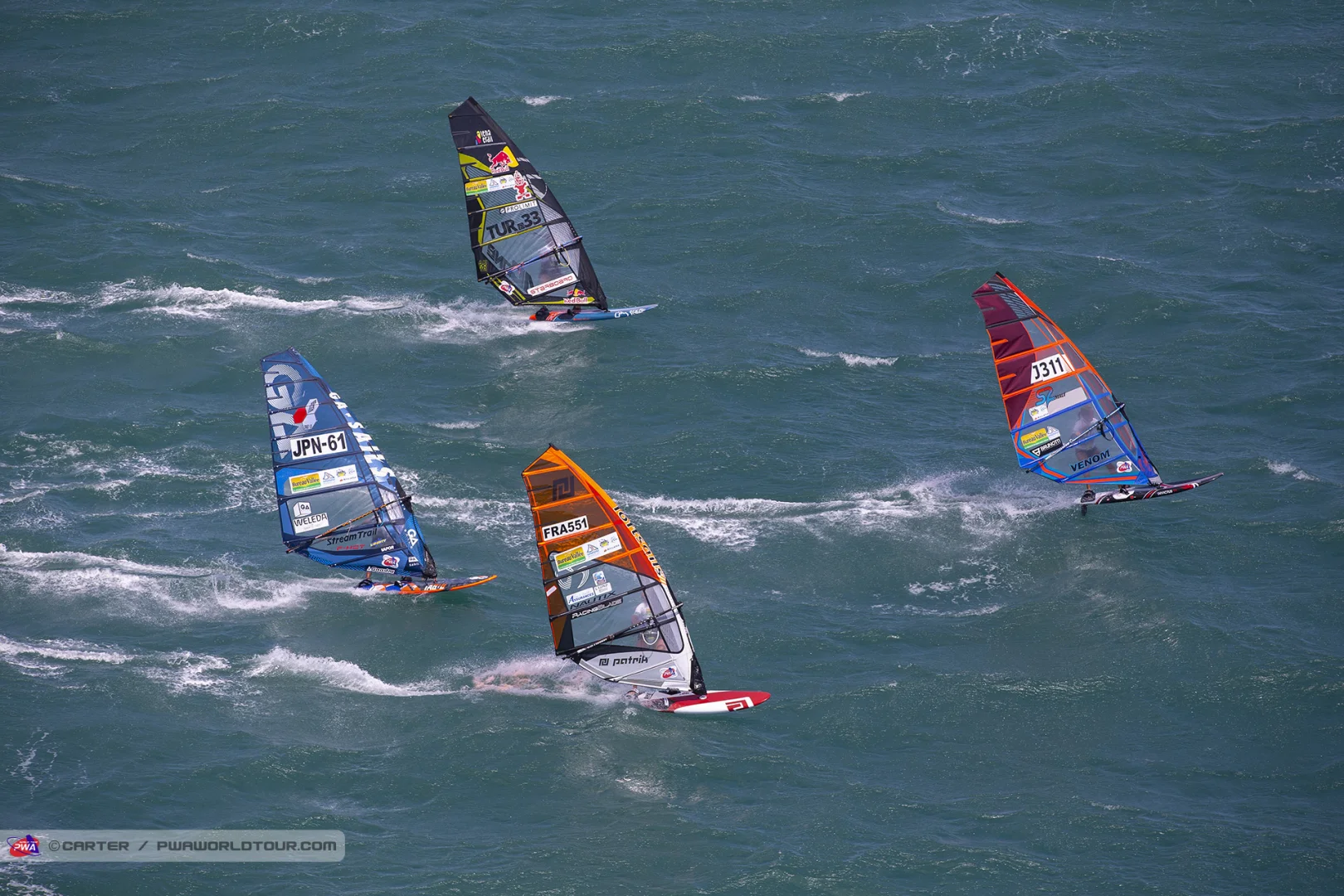 Pic by John Carter for PWA World Tour