INTERVIEW WITH HELENE NOESMOEN
Helénè, how did you start windsurfing and how was the process from learning to finally pursue a competition carrier?
I grew up in Les Sables d'Olonne, in the West of France, and there I learned to love the sea and the wind and waves that came with it. My father was windsurfing and he shared his passion with all his family. I used to go to different competitions following my older sister and brothers and I loved it! I spent a lot of time on the water, enjoying the feeling of gliding and trying to improve every day. I then started to take part in international competitions in Techno 293D and Slalom and then for about 10 years on RSX and finally now Windfoil.
When did you first start using Loftsails?

The first time I sailed with Loftsails was more than 10 years ago, when I was competing in slalom, and then I won the youth national slalom title with the Switchblade in 2012.
How is the process of developing and testing new sails with Monty?
It is an honor to work with Monty on the development programs, he has great experience in sail design. Basically, he is sending me some photos for testing, and I am sending him my feedback, describing my feelings, and giving ideas for improvements. I hope to be in Tarifa this year and have a chance to sail together!
2020 Was indeed your best year ever, how did you evolve so quickly from the RSX class to the new Windfoil Class?

Yes, 2020 was an amazing season! I had the chance to start windfoiling in 2017 in Franc. Initially, it was just for fun! I liked to practice foiling jibes with the no-cam Oxygen sail after a day dedicated to RSX training. Then, by the time windfoil became new Olympic gear and the Formula Foil women circuit started to grow, I had already spent lots of hours foiling, and for sure that was a great help to a fast transition!
So, what are the challenges and competition plans for 2021?

In 2021 I will be racing in different sailing classes, and my main challenge will be to perform in all of them at the same time. I am trying to take all the opportunities to improve my foiling skills. If the chance comes, I would love to join some PWA events to get more experience in the light wind slalom-foil. I will also race in several windfoil long-distance races. But my main goal will be to chase gold at the European and World Championship in both iQfoil class and Formula Foil class. Last but not least, I am doing my first steps in the SailGP F50 this year.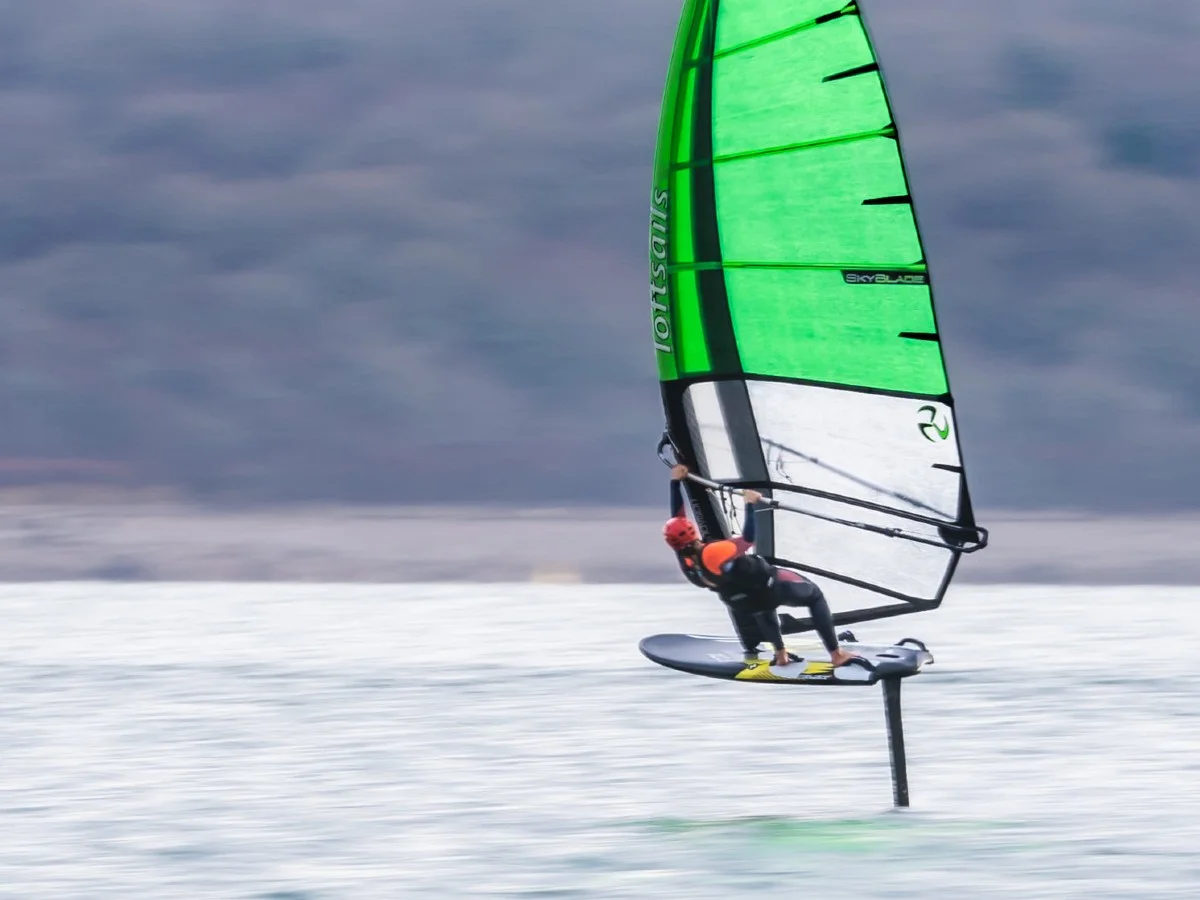 How is the Worldwide pandemic situation altering your training and competition agenda?
With the pandemic, I avoid traveling abroad for training, but that's ok as there are plenty of people windfoiling in France so I can stay home and have really good training partners!
The competition agenda is evolving quickly and we have to adapt ourselves. I have not competed since October 2020 but look forward to hitting a starting line for the first time in 2021 soon!
What do you expect from the PWA Slalom Windfoil Tour compared to the Formula Foil / IQ Class?

I never had the chance to race on the PWA Tour and I am really excited to try it as I love the slalom format with short races full of adrenaline. I also really like to have wider gear choices and set up possibilities to have the best speed. It requires a lot of testing, but it is super interesting! My main goal is to catch a gold medal at the 2024 Olympic Games and I believe the more competitions I manage to attend the better my overall windfoil skills will be.


How have the Skyblades 2021 evolved compared to the previous year? What sizes and foil setup will you use for Slalom Foil?

The 2021 Skyblades have a much better acceleration and consistency. The leech is opening in a very regular way, and that makes the Skyblades very stable at full speed! This year I will be using the 9.0m² in the light winds, and the 7.0m² in the stronger ones, with a small front wing on my foil.


What is your best advice for someone wanting to start windfoiling?

To put yourself in the easiest conditions to start :
1. Choose a flat area where it's easy to launch and get back ashore, with a medium wind day.
2. Use a smaller sail than the one you will be using with a fin in the same wind conditions. No cambers are needed to start, it's even easier to learn the windfoil jibes without cambers. Myself, I learned windfoiling with an Oxygen 5.8m². It was enough to fly with 12-14 knots!
3. Smile on and have fun !
Thanks and good luck for the season, we will be watching ¡
Find out more about our Skyblade, our dedicated Race Foil Sail at https://www.loftsails.com/windsurf-gear/sails/skyblade
Pics courtesy of Maxime Mergalet